High efficiency motors are more efficient motors whose efficiency should meet the relevant energy efficiency rating requirements. High Efficiency Motors take measures from design, materials and processes, such as reasonable positioning, rotor slot number, fan parameters and sinusoidal windings to reduce losses, and efficiency can be increased by 2%-8%, with an average increase of 4%.
High efficiency motor features:
(1) High efficiency, IE2 is 3% higher than IE1, and IE3 is about 5% higher than IE1.
(2) More energy-saving materials are needed. IE2 costs 25% to 30% more than IE1 motors, and IE3 costs 40% to 60% more than IE1 motors.
(3) Due to the lower operating temperature, the motor has a longer life and can reduce maintenance costs.
(4) The starting current is larger under typical design conditions.
(5) The rotor inertia is large.
(6) High speed at rated load, small slip rate
YE2 series high efficiency motors are high-efficiency motors with cold-rolled silicon steel as the magnetic conductive material. The YE2 motor is a fully enclosed self-fan cooled squirrel-cage high-efficiency three-phase asynchronous motor. The efficiency index of this series of motors reaches the level 3 energy efficiency rating in China GB18613-2012 "Small and Medium-sized Three-Phase Asynchronous Motors Limited Value and Energy Efficiency Rating". YE2 high efficiency motor has high efficiency and various performance indicators have reached the international advanced level. The motor is used to drive long-running loads such as fans and pumps, which is energy efficient and saves energy.
The installation size and power level of YE2 high-efficiency three-phase asynchronous motor conforms to the International Electrotechnical Commission IEC72-1 standard. The center high H160 and above motor is equipped with non-stop injection oil discharge device, and space for installing the thermistor and moisture-proof heating belt is reserved. It is convenient for users to choose. The motor stator adopts Class F insulation, but the temperature rise is evaluated according to 80K, the motor temperature rise is low, and the service life is long; the rotor adopts the cast aluminum process, and the running reliability is high.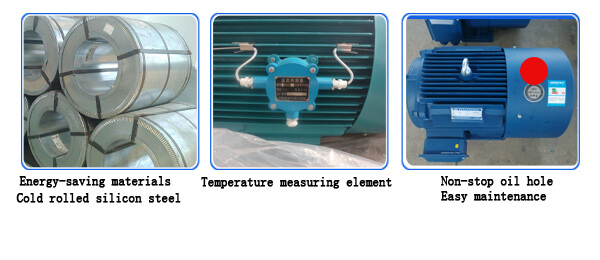 High efficiency motor Parameters
Frame number range: 80-355
Power range: 0.75kW-315kW
Frequency: 50/60Hz
Number of levels: 2/4/6/8
Energy efficiency rating: IE2
Working system: S1
Protection level: IP55/IP56
Insulation class: F
Cooling method: IC411
Ambient temperature: varies with the seasons, but does not exceed 40•C.
Altitude: no more than 1000M
Voltage: 220V, 380V, 660V, 220/380V, 380/660V
Working mode: continuous (S1), allowing full pressure starting.
Wiring method: rated power ≤ 3KW motor is Y wiring mode, rated power ≥ 4KW motor is △ wiring mode.
Note: If there are special requirements for frequency, voltage, etc., it can be submitted at the time of ordering!
Applications: pumps, reducers, compressors
More motor products
There are many types of motor products manufactured and sold by our company. The main products are high- and low-voltage three-phase asynchronous motors. The motor structure types include squirrel-cage type and winding type. Among them, high-voltage synchronous motors mainly support air compressors and mine ball mill equipment. use. We adhere to the service tenet of "focus on products, service with heart" and provide high-quality motor products to customers.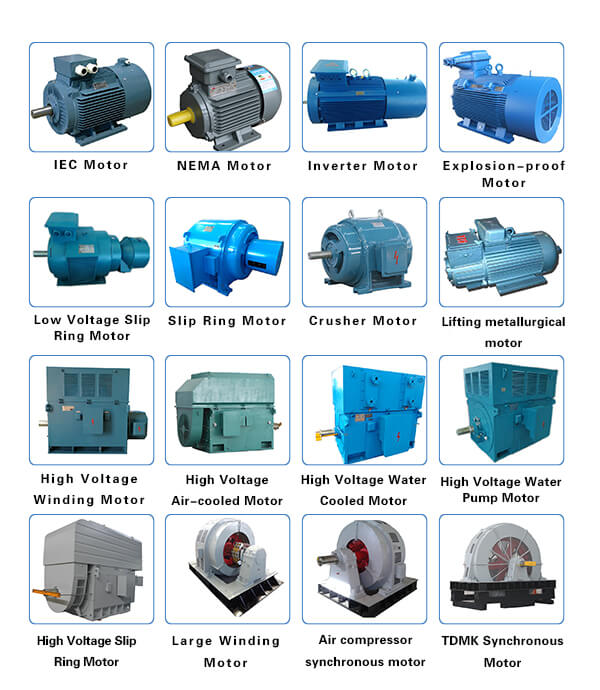 Equipment Capacity
The company has large-scale laboratory, intelligent CNC winding machine, CNC rising machine, automatic wrapping machine, VPI high pressure vacuum immersion system, large-scale dipping paint drying furnace, 60 tons test platform, large vertical car, milling machine, grinding machine, Each type of dynamic balancing machine, double-feedback test and detection system with 6MW (12MW) motor and other motor production professional equipment more than 500 sets, sound mechanical equipment processing capacity, to lay a good foundation for customers to improve good quality motor products.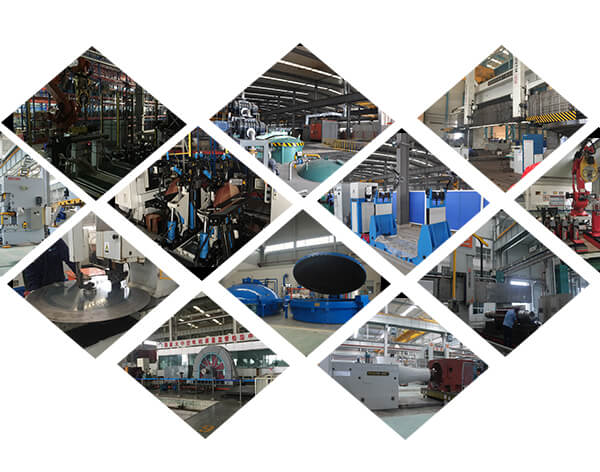 Certifications
The motor products manufactured by our company have obtained the ISO9001 quality management management system certification, passed the CCC/COC, China energy-saving product certification, and passed the certification certificates of CE/UL/IRIS/CAS and other European and American countries. The company strictly improves the quality and efficient motor products and services for users in strict accordance with the requirements of relevant product standards.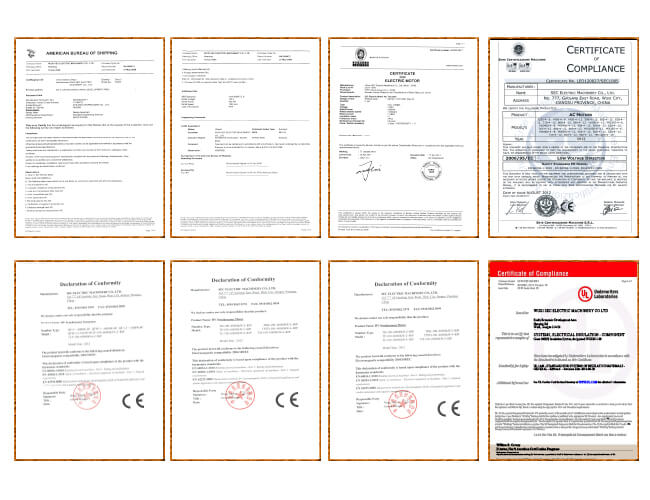 Packing and Shipping
1. The outer packaging of the products are all standard export-oriented wooden plywood packaging.
2, the product packaging is protected by moisture, water plastic soft packaging
3. For products with special transportation requirements (such as temperature, fragile, variability, and easy to get wet), the packaging protection measures will be strengthened, and the target mark will be printed on the package.
4. There are obvious signs and symbols on the packing box that must be paid attention to during transportation and storage (such as position, moisture, rain, shockproof, lifting position, etc.).