YE3 ultra-high efficiency three-phase asynchronous motor adopts high magnetic permeability and low loss cold-rolled non-oriented silicon steel sheet, which is characterized by ultra-high efficiency, energy saving, low vibration, low noise, reliable performance and convenient installation and maintenance. It can be used in mechanical equipment such as compressors, fans, pumps, crushers, etc., and in field petroleum, chemical, pharmaceutical, mining and other field-competitive power sources. YE3 asynchronous motor is the latest model of China to promote the replacement of Y, Y2, Y3, YX3 series motors. The series of motors meet the Class 2 energy efficiency rating in China GB18613-2012 "Energy efficiency limit value and energy efficiency rating of small and medium-sized three-phase asynchronous motors". IE3 in accordance with the energy efficiency rating in IEC60034-30 is at the same level as the most advanced NEMA ultra-efficient motor in the world. Under the current international energy shortage, high-efficiency motors have become the market darling, and will gradually Replace the old model with high energy consumption Y series motor.
YE3 ultra-efficient three-phase asynchronous motor is developed according to China GB/T28575-2012 standard. The motor is fully enclosed and fan-cooled squirrel-cage ultra-high efficiency three-phase asynchronous motor. The product has obtained China CQC/CCC/energy-saving product certification. The efficiency index of YE3 asynchronous motor reaches the level 2 energy efficiency level in China GB18613-2012 "Energy efficiency limit value and energy efficiency rating of small and medium-sized three-phase asynchronous motor", which conforms to IE3 in the energy efficiency class of IEC60034-30, and is currently the most advanced in the world. The US NEMA super efficient motors are at the same level. Compared with the YE2 series, the YE3 ultra-high efficiency motor is more energy efficient, low carbon and environmentally friendly. The installation size and power level are identical to those of ordinary asynchronous motors. They conform to the IEC6072-1 standard of the International Electrotechnical Commission and can be directly replaced to achieve energy saving and power saving, which is convenient for market promotion. Change the series motor center high H160 and above motor can be equipped with non-stop injection oil drain device, and reserve the space for installing the thermistor and moisture-proof heating belt, which is convenient for users to choose.
Product Parameters
Frame number range: 80-355
Power range: 0.75kW-315kW
Frequency: 50/60Hz
Number of levels: 2/4/6/8
Energy efficiency rating: IE2
Working system: S1
Protection level: IP55/IP56
Insulation class: F
Cooling method: IC411
Ambient temperature: varies with the seasons, but does not exceed 40•C.
Altitude: no more than 1000M
Voltage: 220V, 380V, 660V, 220/380V, 380/660V
Working mode: continuous (S1), allowing full pressure starting.
Wiring method: rated power ≤ 3KW motor is Y wiring mode, rated power ≥ 4KW motor is △ wiring mode.
Note: If there are special requirements for frequency, voltage, etc., it can be submitted at the time of ordering!
Applications: pumps, reducers, compressors
Feature of Product
(1) Simple installation and convenient use, suitable for general places and mechanical equipment without special requirements.
(2) YE3 ultra-efficient asynchronous motor reaches the level 2 energy efficiency standard. The efficiency is 2%-3% higher than that of the YE2 high-efficiency motor, which is about 10% higher than that of the ordinary asynchronous motor. This series of motors has a flatter efficiency characteristic in the 50-100% load range.
(3) The installation dimensions and power levels of the motor are in full compliance with IEC standards and DIN42673 standards.
(4) The motor is cast iron shell, with good sealing, dustproof and splashproof, optimized structure design and safe operation.
(5) The motor adopts Class F insulation, which has high heat resistance, strong impact resistance, long insulation life and can be used in harsh environments.
(6) The motor adopts high-quality brand bearings, silicon steel sheets and insulating materials to ensure the quality of the products.
(7) The motor adopts standardized design and adopts new energy-saving materials. The energy-saving effect is remarkable in use, low noise, small vibration, stable performance, safe and reliable.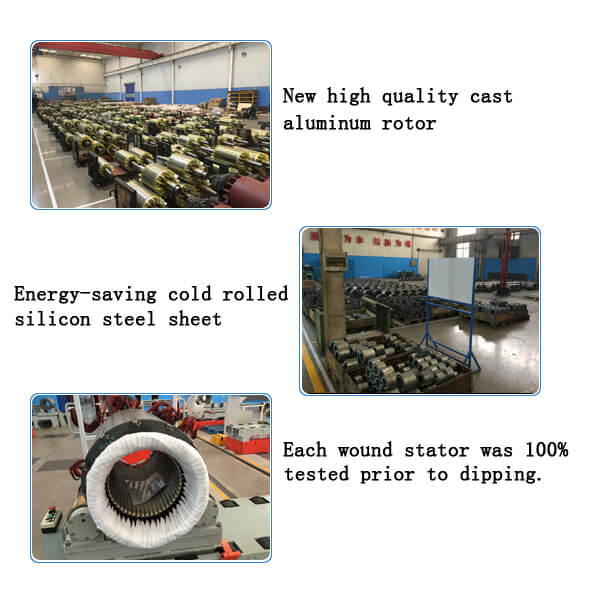 Main Process Flow of the Motor
Motor stator: casing processing → punching press → iron core seating → coil making → weaving → dipping paint drying
Electronic rotor: blank shaft processing → iron core press installation → iron core cast aluminum → rotor string shaft → weave → dipping paint drying → dynamic balance
Motor assembly: stator rotor assembly → machine test → motor appearance coloring → packaging storage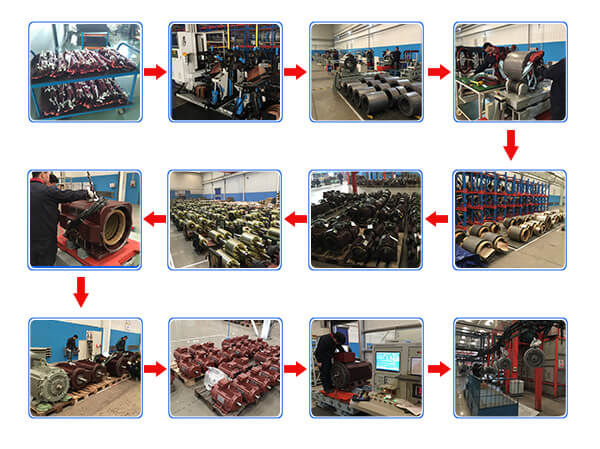 Customer Visit
The company insists on providing high-quality motor products and services to users, and has won high praise from many domestic and foreign customers. The company will receive many foreign merchants to visit our factory every year, and establish a good cooperative relationship through on-site inspection of our factory. Our company always welcomes customers to visit our factory.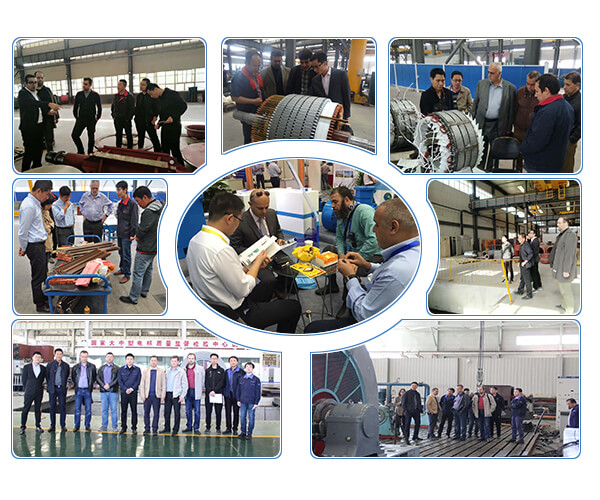 Why Choose Us
1. Professional motor manufacturing service provider;
2. Sound product quality management and certification system;
3. Have a professional sales and technical service team;
4. The motor has perfect process and strong mechanical processing capability;
5. High standard product technical service system;
6. Good faith and mutual benefit, good credit guarantee.
About Us
Shijiazhuang ZCL Electric Motor Technology Co., Ltd. is a company mainly engaged in the manufacture, research and development and sales of motor products. The company has many types of motor products, including IEC standard motors. It is a professional IEC motor manufacturer. Related motor products have passed the product certification in China, the United States, Canada, Europe, the Middle East and other regions, and the products are exported to all over the world. Companies adhere to the "focus on products, service" business philosophy, is committed to improving the quality of safe motor products and services for customers around the world.