NEMA series ultra-high-efficiency three-phase asynchronous motor has the advantages of simple structure, flexible control, high system efficiency and remarkable energy saving effect. This type of motor is a newly designed high efficiency motor. The efficiency of the entire series is designed according to the US NEMA super high efficiency standard. This series of motors has obtained the American Super High Efficiency Motor Certification (CC Certification) and the Canadian CSA Safety Certification.
NEMA motors are fully enclosed, fan-cooled motors with power ratings, mounting dimensions, and electrical and mechanical properties that meet NEMA standards. It is fashionable, well-made, safe and reliable, and has the characteristics of low temperature rise, low noise and vibration, and large starting torque. The motor adopts B or C design, Class F insulation, the use factor is 1.15, the rated voltage is 208~230/460V, and the rated frequency is 60Hz. It is suitable for occasions without special requirements. The maximum ambient temperature does not exceed 40 °C, and the altitude does not exceed 1000m, can be used as a power package for various mechanical equipment. NEMA standard motor bases and end caps are made of high-strength cast iron, which is corrosion-resistant and has a long service life. The outer surface of the base has heat sinks for easy heat dissipation.
NEMA motors are widely used in household appliances, general industrial, servo and speed control systems, traction motors, high speed motors, aerospace and other fields.
Product Parameters
Type: NEMA three-phase asynchronous motor
Design basis: NEMA MG-1, MG-13, IEEE-841
Certification: CE, CSA, UL
Rated voltage: 230V/460V or other voltage
Rated frequency: 60HZ
Output power: 0.75KW ~ 260KW
Working system: continuous working system SF1.0, optional (SF1.0~1.3)
Frame number: 143T ~ 449T
Protection level: IP54, IP55
Cooling method: IC411
Energy efficiency rating: NEMA Premium efficiency
Power conditions: voltage fluctuations ± 5% (short-time allowable fluctuations ± 10%); frequency fluctuations ± 2% (short-time allowable fluctuations ± 5%). The motor and frequency fluctuate within ±5% at the same time, and the frequency fluctuation does not exceed ±2%.
Use place: indoor, non-hazardous gas environment
Ambient temperature: The ambient temperature varies with the season, but the maximum does not exceed +40 ° C, the minimum is not lower than -15 ° C (except for special environment)
Altitude: no more than 1000m (except for high altitude motors)
Transmission mode: flexible coupling, spur gear and pulley drive are allowed
Direction of rotation: clockwise (default), counterclockwise (order required)
Start mode: direct start, Y/△ start, step-down start, variable frequency start, etc.
Feature of Product
Simple structure, flexible control, high system efficiency, and remarkable energy saving effect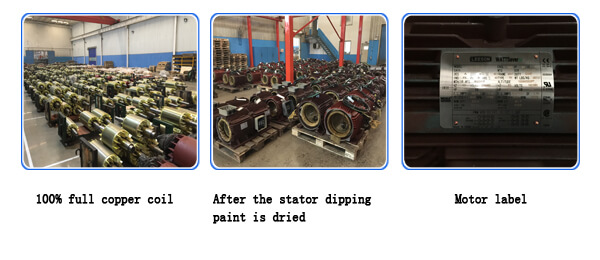 More Product
There are many types of motor products manufactured and sold by our company. The main products are high- and low-voltage three-phase asynchronous motors. The motor structure types include squirrel-cage type and winding type. Among them, high-voltage synchronous motors mainly support air compressors and mine ball mill equipment. use. We adhere to the service tenet of "focus on products, service with heart" and provide high-quality motor products to customers.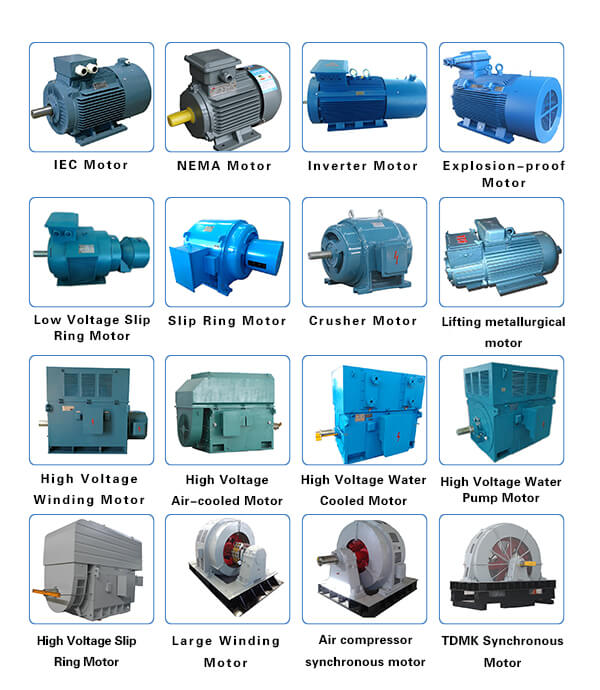 Certifications
The motor products manufactured by our company have obtained the ISO9001 quality management management system certification, passed the CCC/COC, China energy-saving product certification, and passed the certification certificates of CE/UL/IRIS/CAS and other European and American countries. The company strictly improves the quality and efficient motor products and services for users in strict accordance with the requirements of relevant product standards.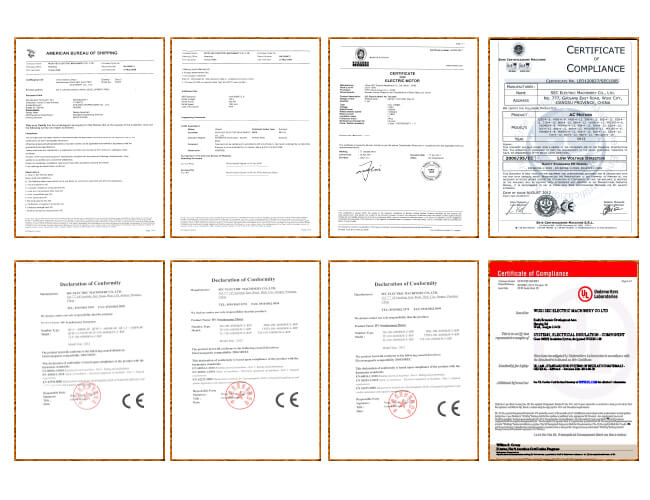 FAQ
More details, welcome to call us!
Q: What are the payment terms?
A: 30% T/T in advance, 70% before shipment
Q: What is your delivery time?
A: Different models with different time, 10-90 days after order confirmed.
Q: What is your MOQ?
A: It depends on model.
Q: Where is your loading port?
A: Shanghai or Tianjing Port, China.