The low-voltage variable frequency motor has the characteristics of wide speed regulation range, low vibration and low noise. The motor adopts the squirrel-cage structure, which is reliable in operation and convenient in maintenance. The installation dimensions and power levels are in accordance with the IEC standard, which is consistent with the corresponding Y series low-voltage motors. Interchangeability and versatility.
The low-voltage variable frequency speed control motor is equipped with an independent cooling fan to ensure that the motor has good cooling effect at different speeds. This series of motors outputs constant torque when operating from 5 (3) to 50 Hz, and outputs constant power when operating from 50 to 100 Hz.
The low-voltage variable frequency motor can be used with many inverters, and controlled by the inverter to achieve the speed under different conditions.

Frame number range: 315-560
Power range: 200kW-1500kW
Frequency: 50/60Hz
Number of levels: 2/4/6/8/10
Working system: S1
Protection level: IP54/IP55
Insulation class: F
Cooling method: IC416
Ambient temperature: -15 ° C ~ 40 ° C
Altitude: no more than 1000M
Voltage: 220V, 380V, 660V, 220/380V, 380/660V
Working mode: continuous (S1), allowing full pressure starting.
Frequency conversion range: 5Hz ~ 50Hz constant torque operation
50Hz ~ 100Hz constant power operation
Wiring method: 55KW and below for Y connection, above 55KW for △ connection
Note: If there are special requirements for frequency, voltage, etc., it can be submitted at the time of ordering!

(1) High efficiency and remarkable energy saving;
(2) Speed regulation smoothing can stepless speed regulation in the range of 5-100HZ.
(3) When the low frequency starts, the torque is less affected by the load;
(4) The starting current is small, no additional starting equipment is required;
(5) Small in size, light in weight, and the same size as the Y series;
(6) An axial fan is installed in the hood, which has good cooling effect at various speeds;
(7) Wide application range, constant torque operation below 50HZ, constant power operation above 50HZ;
(8) Compared with the electromagnetic speed regulating motor, the structure is simple, the use is reliable, and the maintenance is convenient.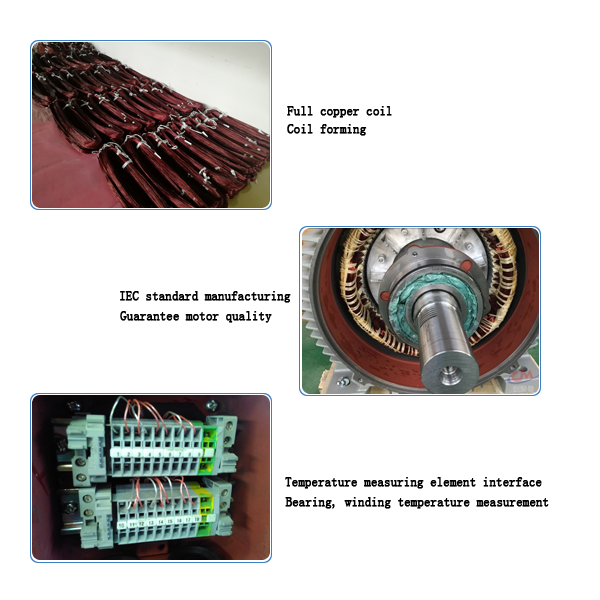 Main process flow of the motor
Motor stator: casing processing → punching press → iron core seating → coil making → weaving → dipping paint drying
Electronic rotor: blank shaft processing → iron core press installation → iron core cast aluminum → rotor string shaft → weave → dipping paint drying → dynamic balance
Motor assembly: stator rotor assembly → machine test → motor appearance coloring → packaging storage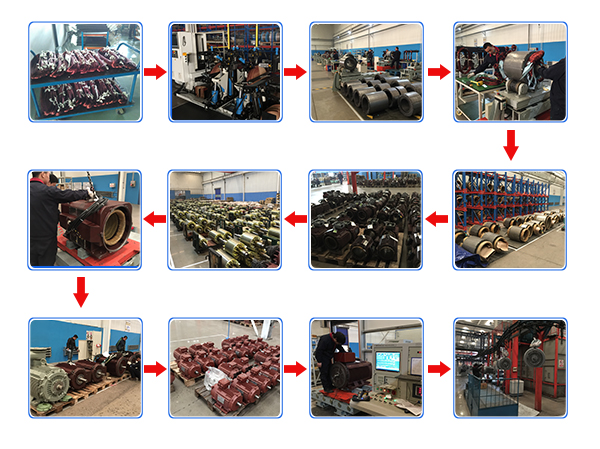 The motor products manufactured by our company have obtained the ISO9001 quality management management system certification, passed the CCC/COC, China energy-saving product certification, and passed the certification certificates of CE/UL/IRIS/CAS and other European and American countries. The company strictly improves the quality and efficient motor products and services for users in strict accordance with the requirements of relevant product standards.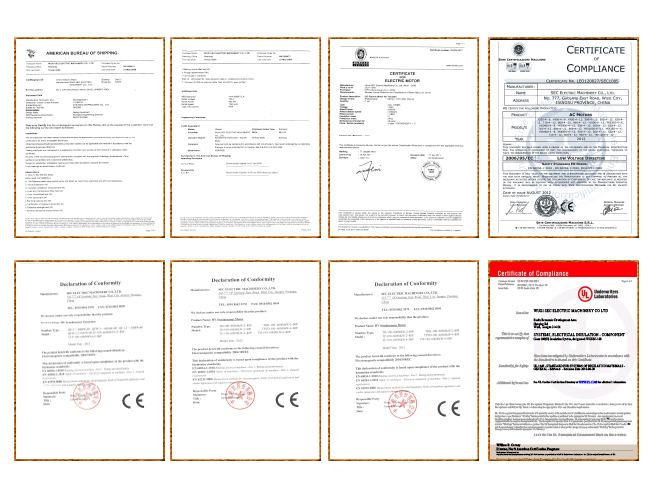 Our company's motor manufacturing factory adheres to the concept of green, efficient and energy-saving production service, pays attention to the harmonious development of internal and external environment, builds environmentally friendly motor manufacturing enterprises, strictly implements motor standard process, and selects high-quality energy-saving materials to ensure the quality of motor products.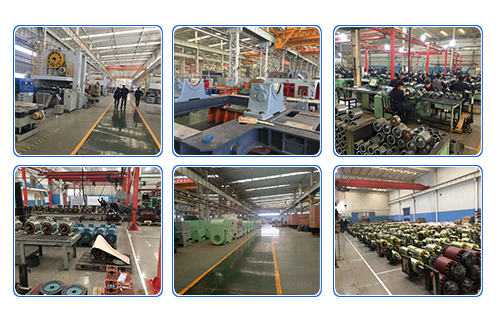 1. Professional motor manufacturing service provider;
2. Sound product quality management and certification system;
3. Have a professional sales and technical service team;
4. The motor has perfect process and strong mechanical processing capability;
5. High standard product technical service system;
6, good faith and mutual benefit, good credit guarantee.