Y2 series (center height H80-355mm) asynchronous motor is a fully enclosed structure, self-fan cooled squirrel cage three-phase asynchronous motor. This series of motors is a general-purpose low-voltage three-phase asynchronous motor that is designed and updated on the basis of Y series motors. Compared with Y series motors, Y2 series motors have high power, large starting torque, protection class IP54, and insulation class F. The appearance is beautiful, the noise is low, the motor cooling method is IC411, and the installation size and power level are completely in accordance with the IEC standard.
As a general-purpose motor, Y2 series asynchronous induction motor is suitable for various mechanical equipment without special requirements. The rated voltage of this series of motors is 380V (can be designed as special voltage according to requirements), the rated frequency is 50HZ/60HZ, the motor power is below YKW for Y connection, and the above 4KW is for △ connection.
Y2 series asynchronous induction motors are generally single-shaft extensions, and can also be designed for dual-axis extensions as needed. The voltage and frequency can be designed as special purpose motors as needed.

Frame number range: 80-355
Power range: 0.75kW-315kW
Frequency: 50/60Hz
Number of levels: 2/4/6/8/10
Working system: S1
Protection level: IP54/IP55
Insulation class: F (Class B assessment)
Cooling method: IC411
Ambient temperature: varies with the seasons, but does not exceed 40•C.
Altitude: no more than 1000M
Voltage: 220V, 380V, 660V, 220/380V, 380/660V
Working mode: continuous (S1), allowing full pressure starting.
Wiring method: rated power ≤ 3KW motor is Y wiring mode, rated power ≥ 4KW motor is △ wiring mode.
Note: If there are special requirements for frequency, voltage, etc., it can be submitted at the time of ordering!
Applications: pumps, reducers, compressors, fans, etc.

Main process flow of the motor
Motor stator: casing processing → punching press → iron core seating → coil making → weaving → dipping paint drying
Electronic rotor: blank shaft processing → iron core press installation → iron core cast aluminum → rotor string shaft → weave → dipping paint drying → dynamic balance
Motor assembly: stator rotor assembly → machine test → motor appearance coloring → packaging storage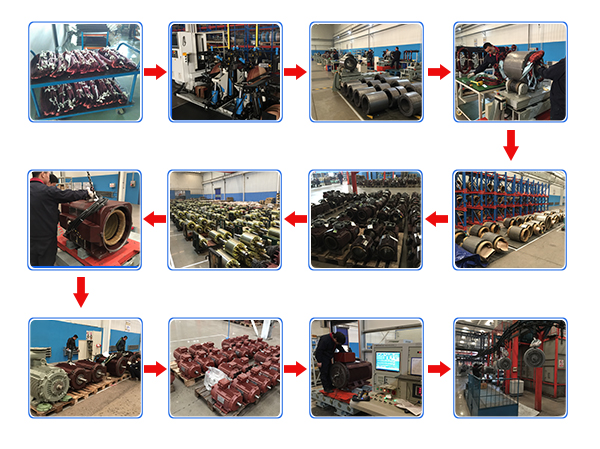 There are many types of motor products manufactured and sold by our company. The main products are high- and low-voltage three-phase asynchronous motors. The motor structure types include squirrel-cage type and winding type. Among them, high-voltage synchronous motors mainly support air compressors and mine ball mill equipment. use. We adhere to the service tenet of "focus on products, service with heart" and provide high-quality motor products to customers.