Y series (10KV)high-voltage motor adopts box structure, and the motor base is welded by steel plate, which is light in weight and good in rigidity. The motor has the advantages of high efficiency, energy saving, low noise, small vibration, reliable operation, convenient installation and maintenance.

Y series(10KV) high-voltage asynchronous motor stator adopts external press-fit structure. The stator winding adopts Class F insulation material, and the end has reliable fixing and binding. During the manufacturing process, it has undergone multiple inter-turn pulse voltage test and ground withstand voltage test. Germany's advanced vacuum pressure impregnation solventless paint equipment and process (VPI) treatment. Therefore, the insulation performance of the motor is excellent and reliable, the mechanical strength is good, and the moisture resistance is strong.

Y series (10KV)large high-voltage motor squirrel cage rotor is made of cast aluminum and copper strip. It is made of advanced and reliable cast aluminum process or welding process, and it is checked by dynamic balance to ensure stable and reliable motor operation.

Y series (10KV)high-voltage AC motor bearings are available in both rolling and plain bearings, depending on the motor power and speed. The main motor junction box is usually mounted on the right side of the motor (as viewed from the shaft extension), or it can be mounted on the left side of the motor as required. There is a separate ground terminal in the main junction box.
Y series (10KV) high-voltage squirrel-cage three-phase asynchronous motor (frame size 355-1000) is a product developed according to many years of high-voltage motor production technology, with reasonable structure and advanced technology. It has the advantages of high efficiency, energy saving, low noise, low vibration, reliable operation, convenient installation and maintenance.

The power rating, installation dimensions and electrical performance of Y series (10KV) high voltage induction motors are in line with national IEC standards. The motor is used in an environment where the altitude does not exceed 1000 m and the ambient air temperature does not exceed 40 ° C and there is no serious dust, corrosive or explosive gas. Motors for wet and tropical regions can also be produced on request.
The Y series (10KV) large high voltage motor has a power supply rated frequency of 50 Hz and a rated voltage of 10000V. It is also possible to manufacture motors with 60 Hz or other voltages as required.
The Y series (10KV) high-voltage AC motor is basically installed with a horizontal bottom angle (IMB3) and a continuous working system (S1).
Y series (10KV) high pressure cage asynchronous motor can be used to drive various general machinery such as compressors, pumps, crushers, cutting machine tools, transportation machinery and other mechanical equipment, in the mining, machinery industry, petrochemical industry, power plants, etc. Used as a prime mover in a mining and mining enterprise. The motor used to drive the blower, coal mill, rolling mill and winch should indicate the purpose and technical requirements when ordering, and adopt special design to ensure reliable operation.

Product Parameters
Center high range: H450-H1000
Power range: 250KW-10000KW
Voltage: 10KV/11KV
Number of poles: 2/4/6/8/10/12
Rated frequency: 50HZ/60HZ
Protection level: IP23
Cooling method: IC01
Insulation class: Class F
Working system: S1
Wiring method: Y
This type of motor is suitable for use in environments where the ambient temperature is -15~+40 degrees Celsius, the altitude is not more than 1000m, indoor or outdoor, and no hazardous gas environment.
Feature of Product
Y series(10KV) high-voltage motor has the characteristics of good heat dissipation, compact structure, light weight, good port, high efficiency, simple installation and convenient maintenance. This type of motor has a high degree of generalization and can be widely used to replace J and JS series motors. In the case of the same motor power, small-seat production is realized.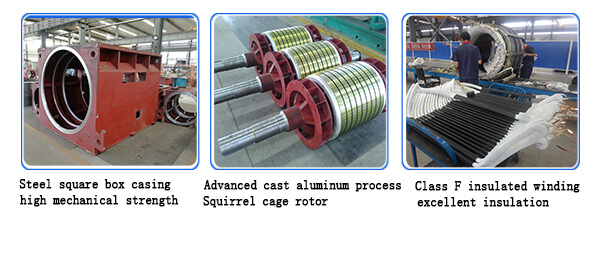 About Us
Shijiazhuang ZCL Electric Motor Technology Co., Ltd. is a company mainly engaged in the manufacture, research and development and sales of motor products. The company has many types of motor products, including IEC standard motors. It is a professional IEC motor manufacturer. Related motor products have passed the product certification in China, the United States, Canada, Europe, the Middle East and other regions, and the products are exported to all over the world. Companies adhere to the "focus on products, service" business philosophy, is committed to improving the quality of safe motor products and services for customers around the world.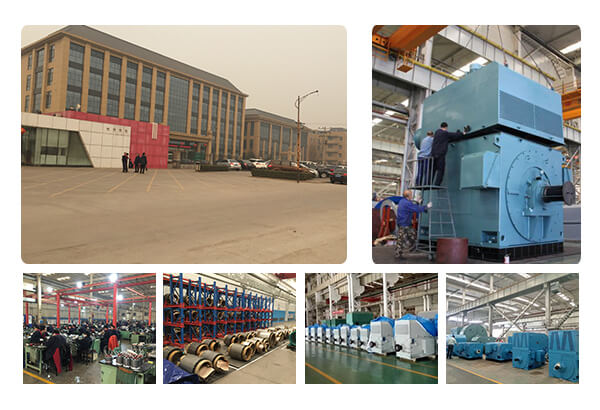 Packing and Shipping
1. The outer packaging of the products are all standard export-oriented wooden plywood packaging.
2. The product packaging is protected by moisture, water plastic soft packaging
3. For products with special transportation requirements (such as temperature, fragile, variability, and easy to get wet), the packaging protection measures will be strengthened, and the target mark will be printed on the package.
4. There are obvious signs and symbols on the packing box that must be paid attention to during transportation and storage (such as position, moisture, rain, shockproof, lifting position, etc.).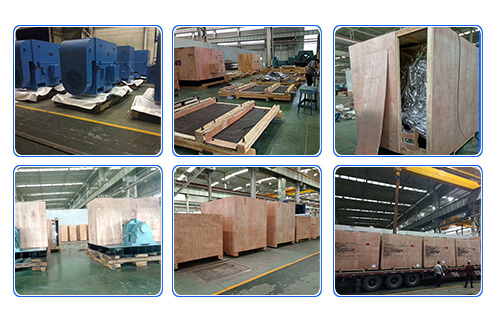 More Product
There are many types of motor products manufactured and sold by our company. The main products are high- and low-voltage three-phase asynchronous motors. The motor structure types include squirrel-cage type and winding type. Among them, high-voltage synchronous motors mainly support air compressors and mine ball mill equipment. use. We adhere to the service tenet of "focus on products, service with heart" and provide high-quality motor products to customers.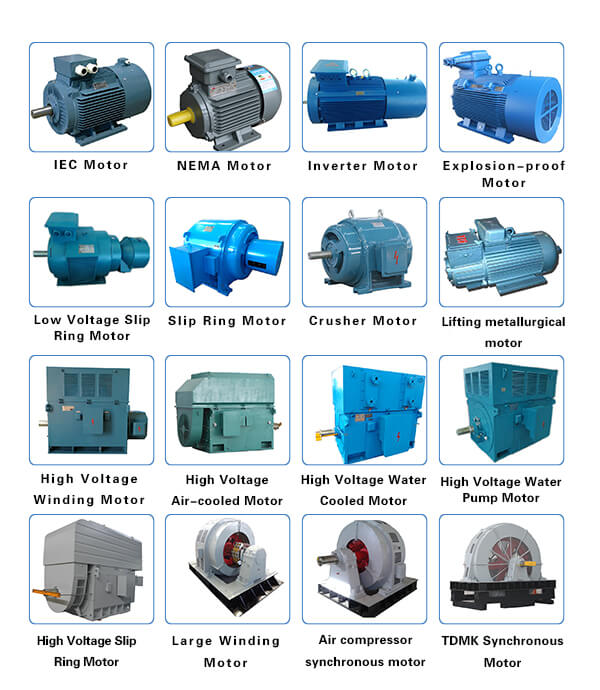 Why Choose Us
(our service advantage)
1. Professional motor manufacturing service provider;
2. Sound product quality management and certification system;
3. Have a professional sales and technical service team;
4. The motor has perfect process and strong mechanical processing capability;
5. High standard product technical service system;
6. Good faith and mutual benefit, good credit guarantee.