Y series (6KV) high-voltage squirrel cage motor allows direct start at full pressure. If the load torque is not large, the step-down starting method can also be adopted. The starting torque of the motor during the step-down starting is roughly proportional to the square of the voltage, if the load When the mechanical moment of inertia is within a certain range, the motor is allowed to be continuously started twice in a cold state, and the hot state is continuously started once.

The Y series (6KV) high voltage asynchronous motor has a rated frequency of 50Hz and a rated voltage of 6KV and 10KV. Its characteristics are as follows:
1. Fully compliant with IEC standards.
2. The motor efficiency is increased by 2% on average compared with the old products.
3, the use of box-shaped structure, easy to transport, installation, maintenance, and maintenance. Save users' civil construction investment fees. The ventilation protection type of the motor can also be flexibly changed according to the needs of the user.
4. The stator winding adopts "F" class solvent-free immersion insulation series.
5. The motor adopts end-cap sliding bearing, which adopts "air seal" and floating labyrinth device structure to prevent oil leakage.
6, the motor uses cast aluminum or copper row rotor, reliable operation.
Ventilation and protection type: The motor ventilation adopts radial self-ventilation mode. The cooling air enters from the upper cover of the motor along the axial side, and is discharged through the inside of the motor and then from both sides of the upper cover hole.

The basic protection type of Y series (6KV) high-voltage AC motor is IP23, and it can also be replaced with top windshield-derived pipe ventilation type IP44. 4-12 pole motor can also be derived as air-to-air cooler with closed circulation ventilation type IP44 and climate protection type. IPW24.
Y series (6KV) high-voltage squirrel-cage three-phase asynchronous motor has the advantages of compact structure, light weight, high efficiency, energy saving, low noise, low vibration, high reliability, long service life, convenient installation and maintenance.
Y series (6KV) high-voltage asynchronous motor is mainly used in general machinery such as fans, pumps, compressors, crushers, cutting machine tools, transportation machinery, etc. in petroleum, chemical, coal, power plant, metallurgy, transportation, textile, pharmaceutical and other industries. Or other similar mechanical equipment.
The Y series (6KV) high-voltage asynchronous motor adopts a box structure, and the machine base has steel plates welded into a box shape, which is light in weight and good in rigidity. The motor is either in the form of a top mounted hood or a side panel opening.
The Y series (6KV) high-voltage asynchronous motor stator adopts external press-fit structure, the stator winding adopts F-class insulation material, the 10KV motor adopts reliable anti-corona measures, the winding ends are reliably fixed and tied, and vacuum pressure dipping paint is adopted. Solvent-free paint process (VPI) treatment, high mechanical strength, strong moisture resistance, long service life. The motor squirrel cage rotor has two structures, cast aluminum and copper strip. It is manufactured by advanced and reliable cast aluminum process or welding process, and has passed dynamic balance check, so the motor runs smoothly and reliably.
Y series (6KV) high-voltage squirrel cage motor bearings adopt two types of rolling bearings and sliding bearings, which are determined by the motor power and speed. The rolling bearings are equipped with non-stop oiling and oil draining devices. The main motor junction box is placed on the right side of the motor (as viewed from the shaft extension), and can also be placed on the left side according to user requirements. There are separate grounding terminals inside and outside the junction box. According to the user's requirements, temperature measuring devices can be added to important parts such as stator windings and bearings to facilitate on-site observation and remote monitoring to ensure safe and reliable operation of the motor.
Product Parameters
Center high range: H355-H800
Power range: 220KW-7100KW
Voltage: 3KV//3.3KV/6KV/6.6KV
Number of poles: 2/4/6/8/10/12
Rated frequency: 50HZ/60HZ
Protection level: IP23
Cooling method: IC01
Insulation class: Class F
Working system: S1
Wiring method: Y
This type of motor is suitable for use in environments where the ambient temperature is -15~+40 degrees Celsius, the altitude is not more than 1000m, indoor or outdoor, and no hazardous gas environment.
Feature of Product
Y series (6KV) high-voltage three-phase asynchronous motor can be used to replace the original J/JS series motor, and realize the production of small frame size under the equal motor power. At the same time, this series of motors is widely used and versatile, and can be used to derive various types of motors. The motor has the characteristics of good heat dissipation, compact structure, light weight, good port, high efficiency, simple installation and convenient maintenance. It is the motor that is currently purchased by enterprises in various working conditions.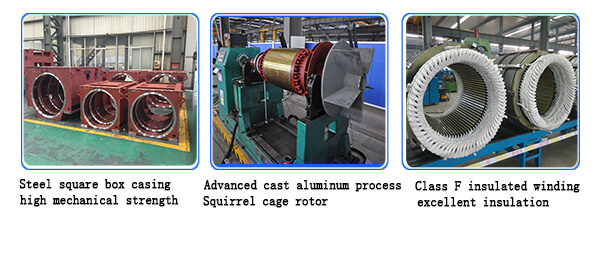 Factory Glimpse
Our company's motor manufacturing factory adheres to the concept of green, efficient and energy-saving production service, pays attention to the harmonious development of internal and external environment, builds environmentally friendly motor manufacturing enterprises, strictly implements motor standard process, and selects high-quality energy-saving materials to ensure the quality of motor products.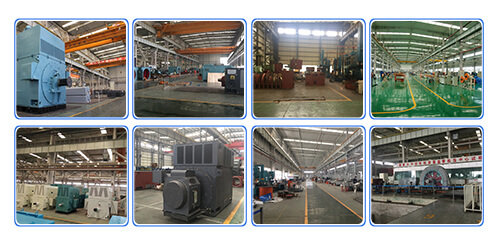 Customer Visit
The company insists on providing high-quality motor products and services to users, and has won high praise from many domestic and foreign customers. The company will receive many foreign merchants to visit our factory every year, and establish a good cooperative relationship through on-site inspection of our factory. Our company always welcomes customers to visit our factory.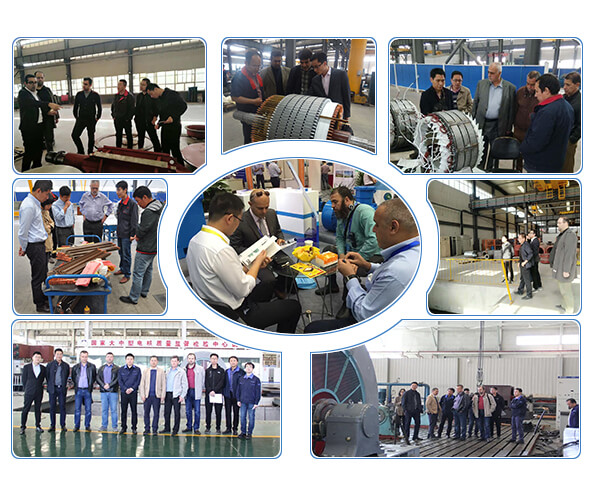 Certifications
The motor products manufactured by our company have obtained the ISO9001 quality management management system certification, passed the CCC/COC, China energy-saving product certification, and passed the certification certificates of CE/UL/IRIS/CAS and other European and American countries. The company strictly improves the quality and efficient motor products and services for users in strict accordance with the requirements of relevant product standards.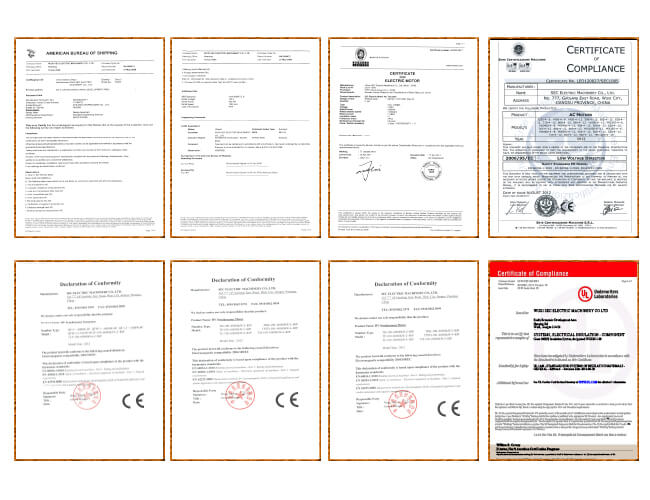 FAQ
More details, welcome to call us!
Q: What are the payment terms?
A: 30% T/T in advance, 70% before shipment
Q: What is your delivery time?
A: Different models with different time, 10-90 days after order confirmed.
Q: What is your MOQ?
A: It depends on model.
Q: Where is your loading port?
A: Shanghai or Tianjing Port, China.