YKS series (6KV) high-voltage motor is a cage-type rotor asynchronous motor with air-water cooler. The series of motors are box-type. The motor has a cylindrical shaft extension. The coupling can be mechanically coupled with the driven motor. The grade is F grade, according to the grade B assessment, the installation type of the motor is IMB3.

The YKS series (6KV) high voltage motor has an enclosure rating of IP44 for indoor environments; the YKS-W series motor enclosure is IP54 rated for use in outdoor environments containing dust, salt and moisture.

YKS series (6KV) high voltage squirrel cage motor adopts box structure, and the base is welded by steel plate, which is light in weight and good in rigidity. The YKS high-voltage motor is a cage-type asynchronous motor with a closed air-water cooler at the top of the motor. The stator winding adopts F-class heat-resistant insulating material and the top binding is reliable. The vacuum pressure immersion paint makes the YKS high-voltage motor have good insulation performance and mechanical strength.
YKS series (6KV) high voltage motor is a squirrel-cage rotor water-cooled three-phase asynchronous motor. This type of motor has advanced technology, high efficiency, low noise, low vibration, reliable operation, convenient installation and maintenance. The power class, installation dimensions and electrical performance of this series of motors are in compliance with the relevant provisions of the IEC standard.
The YKS high voltage three-phase asynchronous motor has a protection rating of IP44 or IP54 and a cooling method of ICW81A.
YKS series (6KV) high voltage AC motors can be used to drive a variety of different machines. Such as ventilators, compressors, pumps, crushers, cutting machine tools and other equipment, and can be used for prime movers in coal mines, machinery industry, power plants and various industrial and mining enterprises.
YKS series (6KV) high-voltage water-cooled motor structure and installation type is IMB3. The quota is continuous quota based on continuous working system (S1). The rated frequency of the motor is 50Hz, the rated voltage is divided into 6KV, 10KV, other voltage levels or Special requirements can be agreed with the user when ordering.
This type of high-voltage motor is viewed from the shaft extension end. The 2-pole motor rotates clockwise. If the user needs to rotate counterclockwise, it must be specified when ordering.
The rotor of the YKS series (6KV) high voltage motor uses a reliable squirrel cage structure of cast aluminum or copper conductor. Bearings are available in both rolling and plain bearings, depending on the speed and power of the motor.
YKS series (6KV) high voltage motors can be used to drive a variety of general machinery, such as: compressors, pumps, fans, crushers, cutting machines, transportation machinery and other mechanical equipment. In the mining, machinery industry, power plants and other industrial and mining enterprises as the prime mover. Used to drag blowers, coal mills, rolling mills, winches, etc. should be stated when ordering.
Product Parameters
Center height range: H355 ~ 630mm
Power range: 220kW ~ 2800kW
Number of poles: 2/4/6/8/10/12
Rated voltage: 3000V/33000V/6000V/6600V
Rated frequency: 50HZ/60HZ
Protection level: IP44 or IP54
Insulation class: F
Work system: S1 (continuous)
Cooling method: IC81W
Installation form: IMB3
Motor connection: Y (three outlet terminals in the junction box, the junction box from the extension of the spindle is located on the right side of the base)
Altitude: no more than 1000m
This type of motor is suitable for use in environments where the ambient air temperature does not exceed 40 ° C and there is no serious dust, the minimum ambient air temperature is -15 ° C, and there is no corrosive and explosive gas in the air (which can also be made into a damp heat or high-altitude motor).
Feature of Product
YKS series (6KV) high-voltage motor has excellent materials, excellent manufacturing, high efficiency, low noise, low vibration, reliable operation and convenient installation and maintenance. The stator winding of the motor is always made of Class F insulation, and is treated by vacuum pressure immersion solventless paint to make the whole stator of the motor have good integrity, good structural strength, good impact resistance, electrical performance and moisture resistance, and stator winding temperature. It is upgraded according to Class B (80k), which can greatly extend the service life of the motor.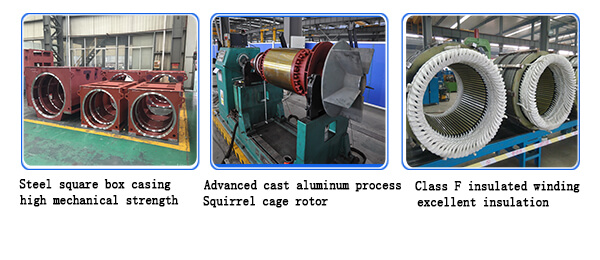 Equipment Capacity
The company has large-scale laboratory, intelligent CNC winding machine, CNC rising machine, automatic wrapping machine, VPI high pressure vacuum immersion system, large-scale dipping paint drying furnace, 60 tons test platform, large vertical car, milling machine, grinding machine, Each type of dynamic balancing machine, double-feedback test and detection system with 6MW (12MW) motor and other motor production professional equipment more than 500 sets, sound mechanical equipment processing capacity, to lay a good foundation for customers to improve good quality motor products.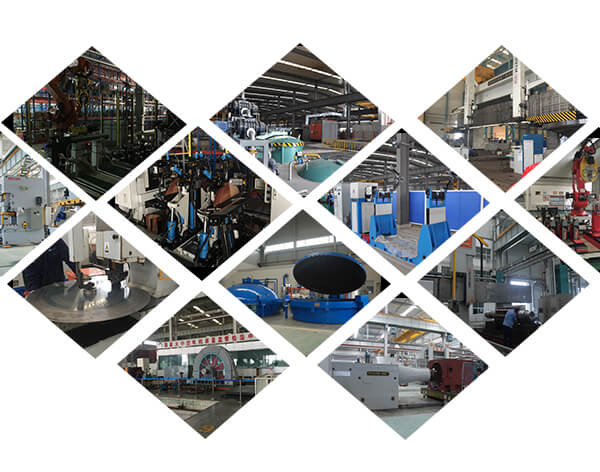 Product Use
The motor products manufactured and sold by our company are used in many industries, such as electric power, mining, steel metallurgy, petrochemical, water conservancy, transportation, building materials and many other industries. The equipment for the motor is pump, machine tool, fan, mill, crusher, rolling mill, compressor and many other industrial equipment.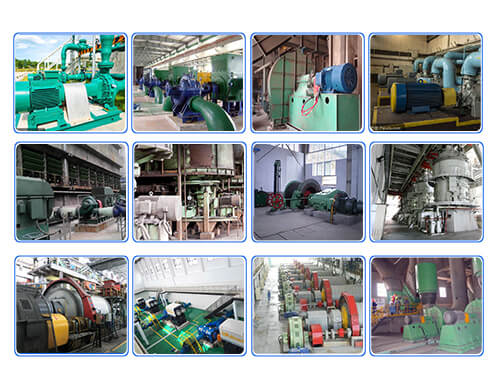 Main Process Flow of the Motor
Motor stator: casing processing → punching press → iron core seating → coil making → weaving → dipping paint drying
Electronic rotor: blank shaft processing → iron core press installation → iron core cast aluminum → rotor string shaft → weave → dipping paint drying → dynamic balance
Motor assembly: stator rotor assembly → machine test → motor appearance coloring → packaging storage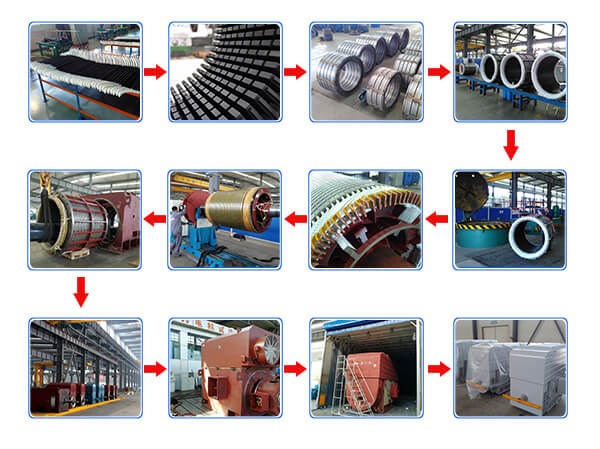 Contact Us
If you are interested in our products motor, please feel free to contact us! Thank you very much!
Shijiazhuang ZCL Electric Motor Technology Co., Ltd.
Add.: Industrial Zone, Zhangjiazhuang Town, Airport Road, gaocheng District, Shijiazhuang, Hebei, China
Tel./Fax: 86-13931192007/ 86-311-89246924
Skype:+86-13931192007
QQ: 568151260
Welcome to visit our factory!
E-mail: zclgroup@zcl-group.com