YXKK series high-efficiency high-voltage three-phase asynchronous motor is an optimized series of products developed on the basis of absorbing foreign advanced technology and combining with the company's high-voltage motor design and manufacturing experience. It is a new generation of high-efficiency energy-saving motor products, the power level and installation of this series of motors. The dimensions are in line with the International Electrotechnical Commission standard ICE34-1 standard, and the electrical performance efficiency value is 20% lower based on the above standards.

YXKK series high-voltage high-efficiency squirrel-cage motor adopts technological improvement in electromagnetic design, motor winding, motor magnetic wedge and insulation system, which makes the motor of this type more efficient, not only meets the production needs, but also reduces the loss. It saves social resources, improves economic benefits, and has obvious effects. It is a new generation of high-efficiency energy-saving high-voltage motor products.

YXKK series large-scale high-pressure high-efficiency motors have the advantages of compact structure, light weight, high efficiency, low noise, high reliability, long service life and convenient installation and maintenance. The efficiency of this series of motors meets the high efficiency motor energy efficiency standards recommended by the National Development and Reform Commission.
YXKK series large-scale high-efficiency high-efficiency motor is the latest generation of energy-saving motor products. The efficiency value of this type of motor is lower than the standard by 20%, and the energy efficiency label is adapted to the international IEC60034-30 energy efficiency value. YXKK large high-pressure high-efficiency motors have strong interoperability and can be used in place of many high-voltage asynchronous motors.
The YXKK series of large high voltage and high efficiency motors are rated IP54 or IP55. The cooling method is IC611 or IC616. This type of motor still adopts box type structure. The base and end cover are made of steel plate welding, and the motor stator adopts external pressing structure. The stator winding adopts F-class insulation and anti-corona material. The whole stator adopts VPI dipping technology. The motor has excellent insulation performance, moisture resistance and impact resistance. This series of motor H355-630 adopts magnetic slot wedge.
YXKK large-scale high-efficiency motor squirrel-cage rotors mostly use copper rod rotors. The squirrel-cage copper rod rotors adopt advanced and reliable welding technology and are fastened in the wedges. Reliable operation, a small amount of cast aluminum rotor. The motor bearing adopts two types of rolling and sliding bearings. The rolling bearing structure motor has non-stop refueling and oil discharge device.
YXKK series large motors can be used to drive various general-purpose machines, such as compressors, fans, pumps, cutting machines, transportation machinery and other mechanical equipment. They are used in mining, machinery, petrochemical, power plants and other working conditions. The original power is used. Used to drive large moments of inertia blowers, coal mills, rolling mills, winches, crushers, belt conveyors and other machinery.
Product Parameters
Center height range: H450 ~ 710mm
Power range: 355kW to 3150kW
Number of poles: 2/4/6/8/10/12
Rated voltage: 6000V/66000V/10000V/11000V
Rated frequency: 50HZ/60HZ
Protection level: IP54 or IP55
Insulation class: F
Work system: S1 (continuous)
Cooling method: IC611/IC616
Installation form: IMB3
Motor connection: Y (three outlet terminals in the junction box, the junction box from the extension of the spindle is located on the right side of the base)
Altitude: no more than 1000m
This type of motor is suitable for use in environments where the ambient air temperature does not exceed 40 ° C and there is no serious dust, the minimum ambient air temperature is -15 ° C, and there is no corrosive and explosive gas in the air (which can also be made into a damp heat or high-altitude motor).
Feature of Product
(1) YXKK large-scale high-voltage motor has been designed with electromagnetic optimization, and the size, air gap and groove shape have been fully optimized.
(2) YXKK large-scale motors adopt low-harmonic windings to reduce the stator copper loss and stray loss of the motor and improve the operating efficiency of the motor.
(3) YXKK large-scale motor adopts high-strength magnetic wedge and stable wedge-fastening technology and material, which successfully solves the problem of magnetic wedge wedge shedding and improves the electrical performance of the motor.
(4) Adopting a backward tilting centrifugal fan and an axial flow fan to optimize the internal and external ventilation system of the motor, improve the cooling effect, reduce the motor ventilation loss, reduce the ventilation noise, and improve the motor efficiency.
(5) YXKK large-scale motor has improved the insulation system in an all-round way, and has improved the insulation material and the manufacturing process to strengthen the insulation grade of the motor.
(6) YXKK high-voltage squirrel cage motor has lower loss on the basis of standard efficiency, and the motor efficiency reaches IE2 level, which is a high-efficiency motor in the true sense.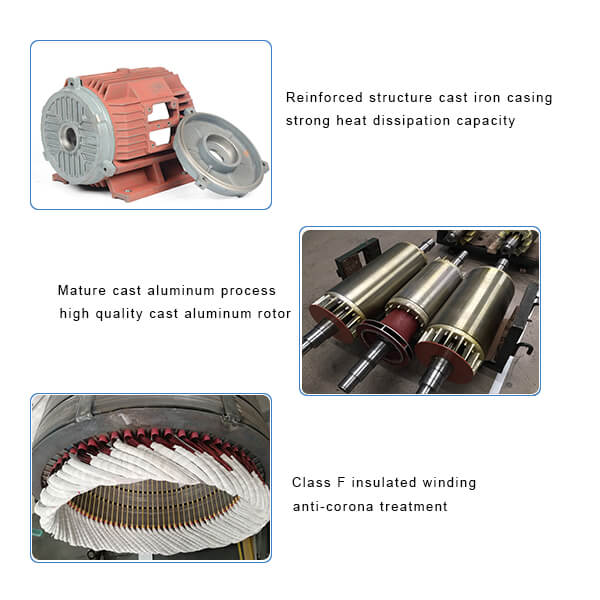 Factory Glimpse
Our company's motor manufacturing factory adheres to the concept of green, efficient and energy-saving production service, pays attention to the harmonious development of internal and external environment, builds environmentally friendly motor manufacturing enterprises, strictly implements motor standard process, and selects high-quality energy-saving materials to ensure the quality of motor products.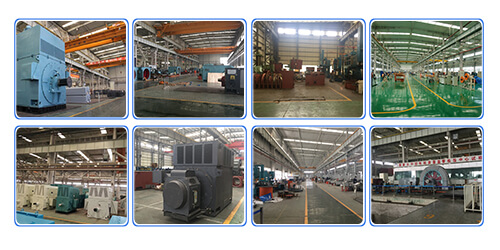 Customer Visit
The company insists on providing high-quality motor products and services to users, and has won high praise from many domestic and foreign customers. The company will receive many foreign merchants to visit our factory every year, and establish a good cooperative relationship through on-site inspection of our factory. Our company always welcomes customers to visit our factory.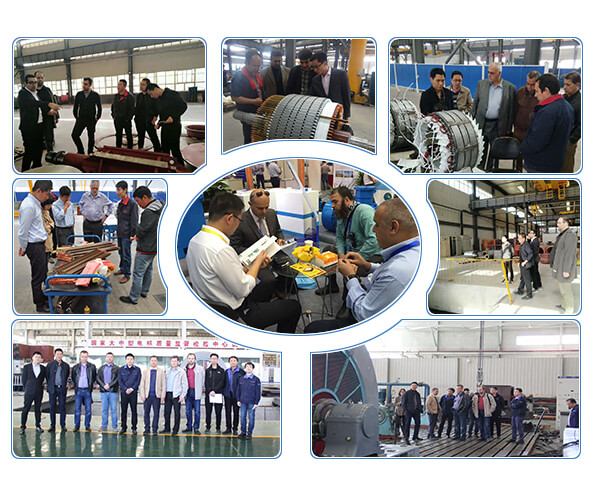 Equipment Capacity
The company has large-scale laboratory, intelligent CNC winding machine, CNC rising machine, automatic wrapping machine, VPI high pressure vacuum immersion system, large-scale dipping paint drying furnace, 60 tons test platform, large vertical car, milling machine, grinding machine, Each type of dynamic balancing machine, double-feedback test and detection system with 6MW (12MW) motor and other motor production professional equipment more than 500 sets, sound mechanical equipment processing capacity, to lay a good foundation for customers to improve good quality motor products.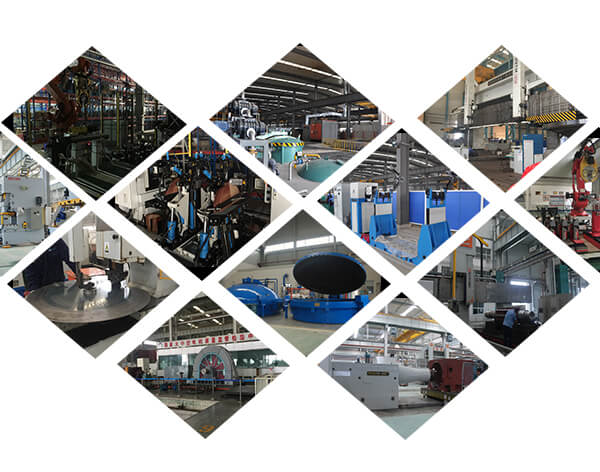 FAQ
More details, welcome to call us!
Q: What are the payment terms?
A: 30% T/T in advance, 70% before shipment
Q: What is your delivery time?
A: Different models with different time, 10-90 days after order confirmed.
Q: What is your MOQ?
A: It depends on model.
Q: Where is your loading port?
A: Shanghai or Tianjing Port, China.