Three-phase asynchronous electric motors with short-circuit rotor series A4 are designed to drive mechanisms that are not requiring regulation of the speed of rotation (pumps, ventilators (ry, smoke exhausters, etc.).
The motors are designed to operate on a 50 Hz AC mains voltage of 3000 V, 6000 V and 10000 V.
Motors with a voltage of 3000 V are manufactured in the dimensions of motors with a voltage of 6000 V with the same power. The stator current of motors with a voltage of 3000 V is twice that of motors with a voltage of 6000 V.
Climatic version of 3000 V and 6000 V motors - U3, T3.
Climatic version of motors with voltage 10,000 V - U3.
Nominal operating mode - continuous S1.
Engine design - IM1001.
Cooling method of motors - ICA01.
Protection degree of motors - IP23, terminal boxes% IP55.
Direct start of motors. Motors allow two cold starts in a row or one hot start. The interval between subsequent starts is not less than three hours, the number of starts is not less than 2000 during the operation period, but not more than 250 starts per year during the warranty period.
The motors are equipped with grease lubricated rolling bearings. The connection of the motors with the drive mechanism is carried out by means of an elastic coupling. Insulating materials of the stator winding of the heat resistance class not lower than "B". The stator winding insulation is thermosetting type "Monolit - 2". The stator winding has six leads out, fixed on four insulators in the terminal box. The phase connection of the windings is star.
Motors allow right and left rotation. The reversal of the direction of rotation is carried out only from rest.
Motors can be fitted with SKF or FAG bearings
ASYNCHRONOUS ELECTRIC MOTORS A4 SERIES
Structure of the type designation of the A4 series motors voltage 6 kV
Structure of the type designation of the A4 series motors voltage 10 kV

Frame number range: 400 ~ 630
Power range: 315kW to 2500kW
Number of poles: 4/6/8/10/12
Rated voltage: 6000V/66000V/10000V/11000V
Rated frequency: 50HZ/60HZ
Protection level: IP54 or IP55
Insulation class: F
Work system: S1 (continuous)
Cooling method: IC611/IC616
Installation form: IMB3
Motor connection: Y (three outlet terminals in the junction box, the junction box from the extension of the spindle is located on the right side of the base)
Altitude: no more than 1000m
This type of motor is suitable for use in environments where the ambient air temperature does not exceed 40 ° C and there is no serious dust, the minimum ambient air temperature is -15 ° C, and there is no corrosive and explosive gas in the air (which can also be made into a damp heat or high-altitude motor).

Gost standard high-voltage motors adopt new technologies, new materials, new processes, sophisticated materials, excellent manufacturing, beautiful appearance, high efficiency, energy saving, low noise, low vibration, light weight, reliable performance, convenient installation and maintenance.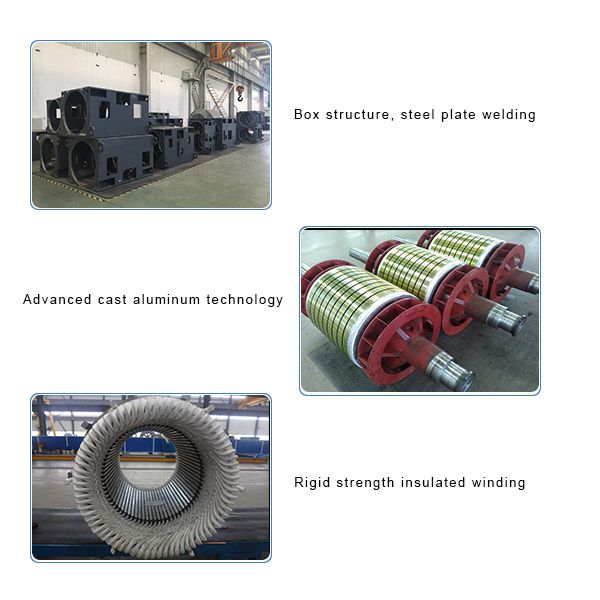 The company insists on providing high-quality motor products and services to users, and has won high praise from many domestic and foreign customers. The company will receive many foreign merchants to visit our factory every year, and establish a good cooperative relationship through on-site inspection of our factory. Our company always welcomes customers to visit our factory.