YB2 explosion-proof asynchronous AC motor is a kind of motor that can be used in flammable and explosive places, and does not generate electric spark during operation. It is a motor structure that does not generate arcs, sparks or dangerous high temperatures under normal operating conditions, and then takes some mechanical, electrical and thermal protection measures to further avoid arcing, sparking or under normal or approved overload conditions. The danger of high temperatures ensures the safety of explosion protection.

YB2 explosion-proof asynchronous AC motors are mainly used in coal, oil and gas, petrochemical and chemical industries. In addition, it is widely used in textile, metallurgy, city gas, transportation, grain and oil processing, paper, medicine and other departments. Explosion-proof motors are used as the main power equipment and are commonly used to drive pumps, fans, compressors and other transmission machinery.
YB2 series asynchronous explosion-proof electric motor is an ideal driving product to meet the needs of high-power equipment in explosive gas environment such as factories and coal mines. It is the basic series of explosion-proof motors of our company YB series. It features high efficiency, low noise, long life and high reliability.
The performance of YB2 series flameproof three-phase asynchronous motor meets the requirements of GB3836.2-2010 "Electrical equipment for explosive gas atmospheres Part 2: Explosion-proof type "d"" and the International Electrotechnical Commission standard IEC79-1 respectively. ExdllAT4 and ExdllBT4 are suitable for dangerous places where the explosive gas mixture of the IIA and IIB temperature groups T1-T4 is present in the coal mine underground non-color excavation working face and the factory.
YB2 series asynchronous explosion-proof motor with ExdI explosion-proof mark motor, suitable for coal mine where there is danger of methane mixture and coal dust explosion; motor with ExdIIBT4 explosion-proof mark, suitable for factory class II B, temperature group T1, T2 The environment in which the explosive gas mixture of the T3 and T4 groups exists; the motor with the ExdIICT4 explosion-proof mark is suitable for the environment in which Class II Class C plants are used and the temperature group is an explosive gas mixture of Groups T1, T2, T3 and T4.
YB2 series AC flameproof three-phase asynchronous motor has the same power level and installation size as the International Electrotechnical Commission (IEC) standard. Its correspondence is the same as the German DIN42673 standard, which is beneficial to the export equipment and the spare parts of the imported equipment.
The explosion-proof performance of this series of motors complies with GB3836.1-2000 "Electrical Equipment for Explosive Gas Environments Part 1: General Requirements" and GB3836.2-2000 "Electrical Equipment for Explosive Gas Environments Part 2: Explosion-proof Type "d"" The regulations are also compliant with the provisions of IEC79-1, BS4683 and EN50018 to create an explosion-proof type. The explosion-proof marks are ExdI, ExdIIAT4, ExdIIBT4, ExdIICT4, which are suitable for use in places where explosive gas mixtures are present.
ExdI is suitable for use in underground coal mine non-mining face environments where explosive mixtures of methane or coal dust are present.
ExdIIAT4 is suitable for use in factory class IIA, where the temperature group is the presence of an explosive gas mixture of Groups T1, T2, T3 and T4.
ExdIIBT4 is suitable for use in factory-use Class IIB, temperature groups in the presence of explosive gas mixtures in the T1, T2, T3 and T4 groups.
ExdIICT4 is suitable for use in factory-use Class IIC, temperature groups in the presence of explosive gas mixtures in the T1, T2, T3 and T4 groups.
Based on YB2 basic series motor, it can also be made into YB2-W outdoor type, YB2-TH indoor wet tropical type, YB2-THW outdoor wet tropical type, YB-TA indoor dry tropical type, YB-TAW outdoor dry tropical Type, YB-T indoor tropical type, YB-TW outdoor tropical type and YB-WF1 outdoor medium anti-corrosion type and other climatic conditions.
Product Parameters
Motor power range is 0.55-315KW
Rated voltage: 380V, 660V, 1140V, 380/660V, 660/140V.
Rated frequency: 50Hz/60Hz.
Quota: continuous work S1
Explosion-proof signs: ExdI, ExdII AT4, Exd IIBT4, ExdIICT4.
Environmental conditions: The altitude does not exceed 1000m, and the ambient air temperature varies with the season, which is -15~40°C.
Shell protection rating: IP55.
Motor insulation class is F
Cooling method: IC411.
Installation type: B3, B5, B35, V1, etc.

Feature of Product
YB2 series asynchronous explosion-proof motor, which has the characteristics of high efficiency, energy saving, large starting torque, good performance, low noise, low vibration, high reliability and convenient use and maintenance.
(1) The correspondence between power class, installation size and speed is consistent with DIN42673. Considering the compatibility with the YB series and the interchangeability of the Y2 series, the necessary adjustments are made, which is more effective and applicable.
(2) The whole series adopts Class F insulation, and the temperature rise is assessed according to Class B.
(3) The noise limit is lower than that of the YB series, which is close to the Y-class noise of the YB series, and the vibration limit is equivalent to the YB series.
(4) The enclosure protection level is increased to IP55.
(5) The whole series uses low-noise deep groove ball bearings, and the center of the machine base is higher than 180mm.
(6) There are two types of motor heat sinks: parallel horizontal distribution and radiation distribution, which are mainly parallel horizontal distribution.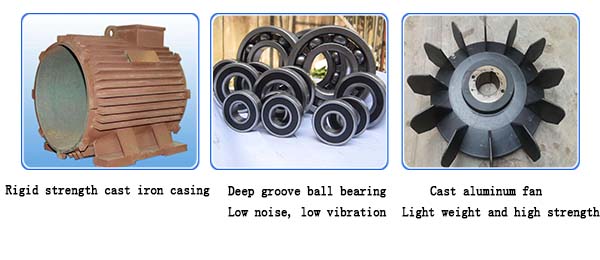 Main Process Flow of the Motor
Motor stator: casing processing → punching press → iron core seating → coil making → weaving → dipping paint drying
Electronic rotor: blank shaft processing → iron core press installation → iron core cast aluminum → rotor string shaft → weave → dipping paint drying → dynamic balance
Motor assembly: stator rotor assembly → machine test → motor appearance coloring → packaging storage
Certifications
The motor products manufactured by our company have obtained the ISO9001 quality management management system certification, passed the CCC/COC, China energy-saving product certification, and passed the certification certificates of CE/UL/IRIS/CAS and other European and American countries. The company strictly improves the quality and efficient motor products and services for users in strict accordance with the requirements of relevant product standards.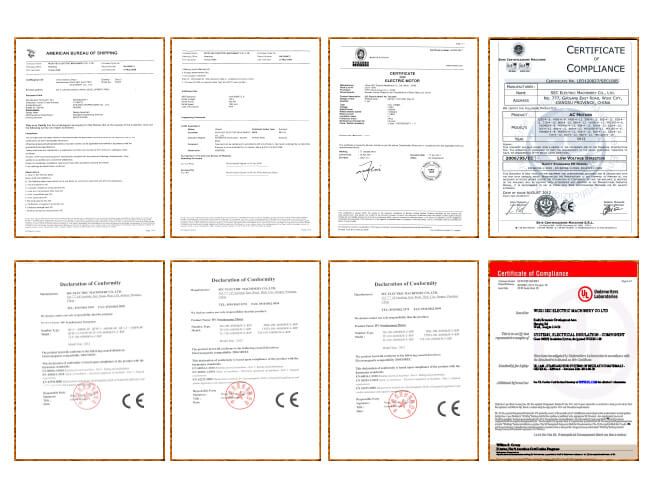 Factory Glimpse
Our company's motor manufacturing factory adheres to the concept of green, efficient and energy-saving production service, pays attention to the harmonious development of internal and external environment, builds environmentally friendly motor manufacturing enterprises, strictly implements motor standard process, and selects high-quality energy-saving materials to ensure the quality of motor products.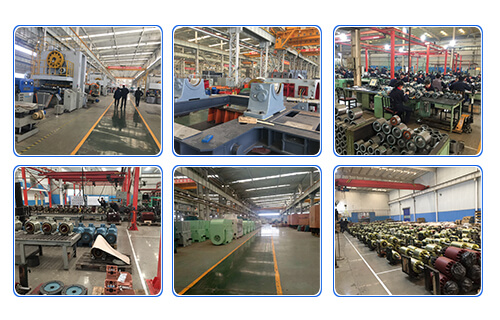 FAQ
More details, welcome to call us!
Q: What are the payment terms?
A: 30% T/T in advance, 70% before shipment
Q: What is your delivery time?
A: Different models with different time, 10-90 days after order confirmed.
Q: What is your MOQ?
A: It depends on model.
Q: Where is your loading port?
A: Shanghai or Tianjing Port, China.