Product Introduction
International Electrotechnical Commission(IEC).Founded in 1906, it is the world's first international electrical standardization organization responsible for international standardization in electrical engineering and electronic engineering. The aim is to promote international cooperation in all areas of electrical, electronic and related technology related to electrical standardization (eg standard conformity assessment). The committee's goal is to effectively meet the needs of the global market; to ensure that its standards and conformity assessment programs are prioritized and maximized globally; to assess and improve the quality and quality of the products involved in its standards; Create conditions; increase the effectiveness of industrialization processes; improve human health and safety; and protect the environment.

The IEC has standard requirements for all aspects of the motor. Motors that meet the requirements of this standard can be called IEC specifications (standard) motors. Our company is a professional IEC motor manufacturer with CE and UL certification. Motor products are exported to many European and American countries. The main products are three-phase asynchronous motors conforming to IEC standards and derived series of AC motors with variable frequency speed regulation, explosion-proof and braking. product. The IEC standard motor has a power range of 0.18kw-375kw, protection class IP54, IP55, and the motor can be equipped with a matching inverter. The IEC standard is similar to the GB standard motor in China. The operating frequency of the IEC standard motor is 50HZ, the working voltage is 380V, and the corresponding synchronous motor speed is: 3000 RPM for 2-pole motor; 1500 RPM for 4-pole motor; 1000 RPM for 6-pole motor.
The IEC standard motor is a motor product strictly in accordance with the requirements of the IEC standard. The motor product includes three series of asynchronous AC motors such as IE2/IE3 high efficiency, variable frequency speed regulation, YB explosion-proof, YD multi-pole speed change, etc., according to the IEC according to size and power requirements. Motor standard, the outer casing of the motor is cast iron casing, the enclosure protection class IP54 or IP55.
Motor Technical Characteristics
Frame number range: 80-355
Power range: 0.75kW-315kW
Frequency: 50/60Hz
Number of levels: 2/4/6/8/10
Working system: S1
Protection level: IP54/IP55
Insulation class: F (Class B assessment)
Cooling method: IC411
Ambient temperature: varies with the seasons, but does not exceed 40•C.
Altitude: no more than 1000M
Voltage: 220V, 380V, 660V, 220/380V, 380/660V
Working mode: continuous (S1), allowing full pressure starting.
Wiring method: rated power ≤ 3KW motor is Y wiring mode, rated power ≥ 4KW motor is △ wiring mode.
Note: If there are special requirements for frequency, voltage, etc., it can be submitted at the time of ordering!
Applications: pumps, reducers, compressors, fans, etc.
Features:
1. High power factor, high efficiency, high efficiency and energy saving, and environmental protection.
2. Simple structure, convenient installation and maintenance.
3. independent fan, forced ventilation, motor heat dissipation performance.

Main Process Flow of the Motor
Motor stator: casing processing → punching press → iron core seating → coil making → weaving → dipping paint drying
Electronic rotor: blank shaft processing → iron core press installation → iron core cast aluminum → rotor string shaft → weave → dipping paint drying → dynamic balance
Motor assembly: stator rotor assembly → machine test → motor appearance coloring → packaging storage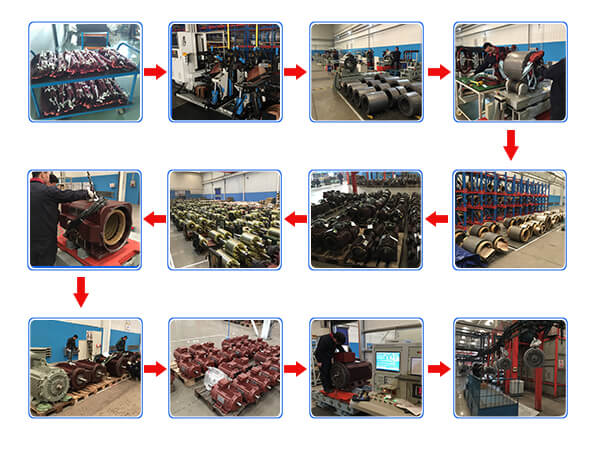 Application Scenario
The motor products manufactured and sold by our company are used in many industries, such as electric power, mining, steel metallurgy, petrochemical, water conservancy, transportation, building materials and many other industries. The equipment for the motor is pump, machine tool, fan, mill, crusher, rolling mill, compressor and many other industrial equipment.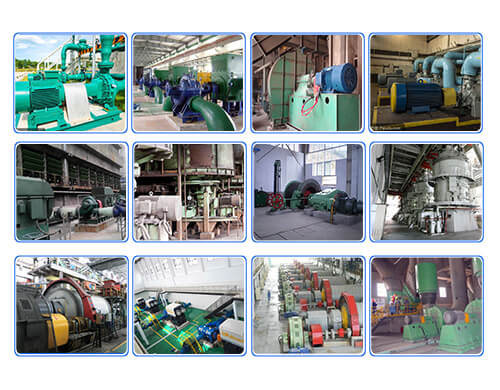 Contact Us
If you are interested in our products motor, please feel free to contact us! Thank you very much!
Shijiazhuang ZCL Electric Motor Technology Co., Ltd.
Add.: Industrial Zone, Zhangjiazhuang Town, Airport Road, Gaocheng District, Shijiazhuang, Hebei, China
TEL./FAX: +86 139 3119 2007/ +86 311 8924 6924
SKYPE:+86 139 3119 2007
QQ: 568151260
Welcome to visit our factory!
E-mail: zclgroup@zcl-group.com